Chromecast Setup – What's in the box?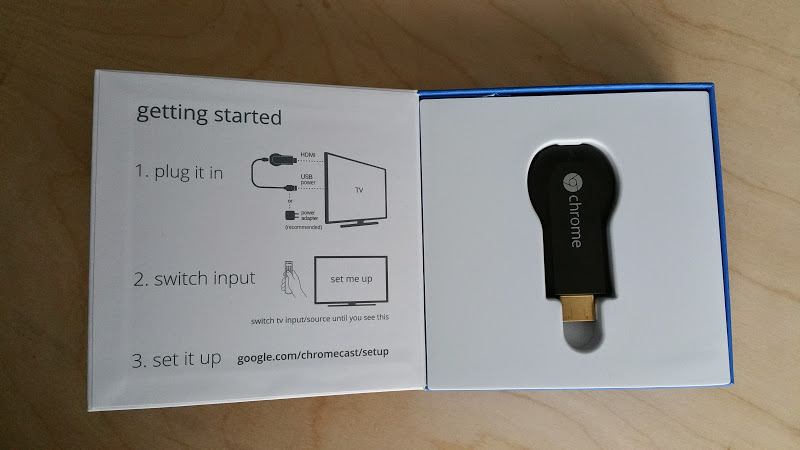 Chromecast Setup – What's in the box?
One of the most desirable features of the Chromecast is how easy it is to setup and use.  It is no surprise that because of this, there is actually very little included in the Chromecast box.  When you open the box flap, you will find instructions on how to go through the Chromecast setup process on the left, and on the right the Chromecast.  Lift up the Chromecast and you will find the four items below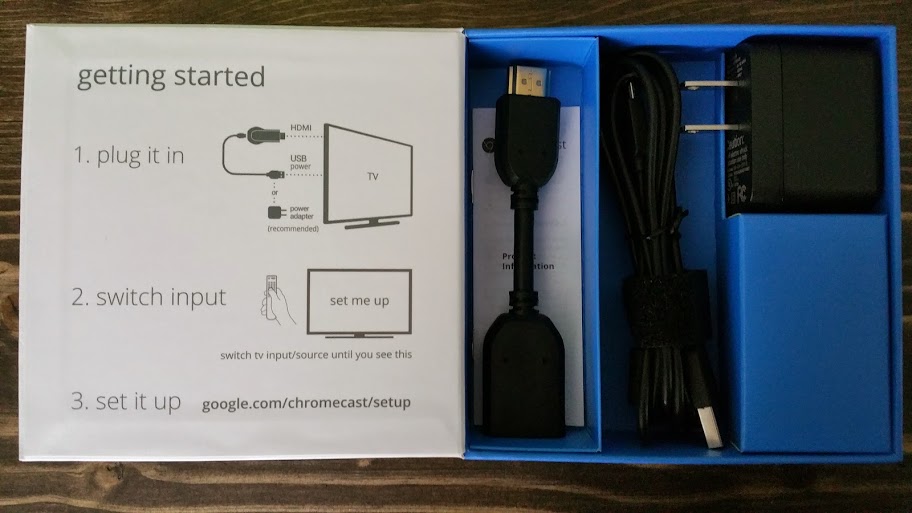 Box Contents:
1 – Chromecast power cable
2 – Power adapter
3 – HDMI extension cable
4 – Product information book
Chromecast Power Cable
The USB power cable included with the Chromecast provides power to the device.  If your TV has a USB port on the back (even one designated for service) you can use it to power your Chromecast.  The only downfall to this is that your Chromecast will power on and off with your TV.  This means that you may have to wait about 20 seconds before you are able to use your Chromecast after powering on your television set.  If your TV doesn't have a USB port or if you simply don't want to use it, you can use the included power adapter.
Power Adapter
As mentioned above, the USB cable can be used with the power adapter to power your Chromecast.  The power adapter is optional if you have an available USB port on your TV that you can use to power your Chromecast.  If you use the power adapter, your Chromecast will stay powered up as long as the adapter is plugged into the wall.
HDMI extension cable
Google was nice enough to realize that the Chromecast might stick out too far if your TV is mounted on the wall.  Most modern TVs have their HDMI ports located in a way where you won't need to use the HDMI extension cable.  If your Chromecast sticks straight out of the back of your TV and your TV is wall mounted, then you may need to use the extension cable in order to avoid putting a hole in your wall.
Product information book
Well if you are reading this website, then you definitely don't need the product information booklet.  The booklet gives you a high level overview of the Chromecast and the contents of the box.  The booklet also contains a few warnings as well as warranty information.  It is good to note that the Chromecast has a one year warranty.
Chromecast Setup
Now that you know what's in the box, you can go through Chromecast Setup process to start casting videos to your TV.  If you have any questions, please leave a comment below.