Google Cast Setup

Google Cast Setup
The Google Cast setup process is fairly straight forward.  With Google Cast, you'll be able to send videos to your Chromecast from your PC or MAC.  You can also cast your full desktop or music to your Chromecast or Chromecast audio devices.  Starting with Chrome version 51, casting is built in to the browser and no longer requires a separate Google Cast extension in order to cast videos.  Follow the steps below to go through the Google Cast setup process in Chrome 51 or newer.
1 – Download and Install Google Chrome
If you already have Google Chrome installed on your PC, you can skip this step.  If not, Chrome can be downloaded from here.  Once you click download, accept the license agreement to install the browser.




2 – Google Cast Setup in Chrome
Now that you have Chrome installed, you are ready to start casting videos.  If you are on a site like YouTube.com, you will automatically have the option to cast just like on your phone or tablet.  In Chrome, click the three vertical dots in the upper left corner then click the cast link.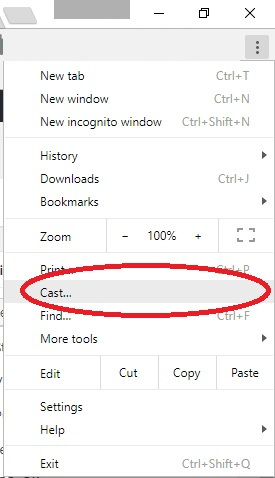 After you click Cast, you will be prompted to select select a Chromecast.  Before you continue, choose whether or not you would like to cast your full desktop, or just your current browser tab.  To do this, click the down arrow next to "Cast To".  This will prompt you to select your source.
After you select tab or desktop, you will be prompted to select your Chromecast again.  In my case, the LG Chromecast 4K is the device that I wanted to cast to.  As soon as you click on the device, you should see your PC's desktop or browser tab mirrored to your Chromecast.
3 – Stop Google Cast
After you are done casting, you may want to disconnect your PC from your Chromecast.  In order to do this, click the square Chromecast icon in the upper left corner of Google Chrome, then click the stop button to disconnect.
This is a great feature to use for services that don't fully support Google's Chromecast.  It's also nice to use if you need a quick, easy way to share your computer screen with a coworker or family member.