Chromecast Ultra 4K Overview
Chromecast Ultra 4K






It's been a few years since the Chromecast has been released and the demand for 4K televisions has increased dramatically.  Services such as Netflix, Google Play Movies, and Amazon Instant Video have all started to offer streaming media in glorious 4K.  Since 4K TV has become the norm, it's no surprise that Google updated the Chromecast with 4K streaming capability.
What's in the box
Much like any other Chromecast, inside the box you will find the device itself as well as the power supply.  The one thing that stands out here when compared to the older Chromecast devices is that the power cable has a built in Ethernet jack.  That's right, no more having to buy an adapter if you prefer to use a wired connection.  Since most 4k media requires at least 30 Mbps of bandwidth to stream, using the wired connection will keep your videos buffer free.  Aside from the Chromecast and power supply, their are also a few cards that give some tips on how to go through the Chromecast setup process.
So what's new with the Chromecast Ultra 4k?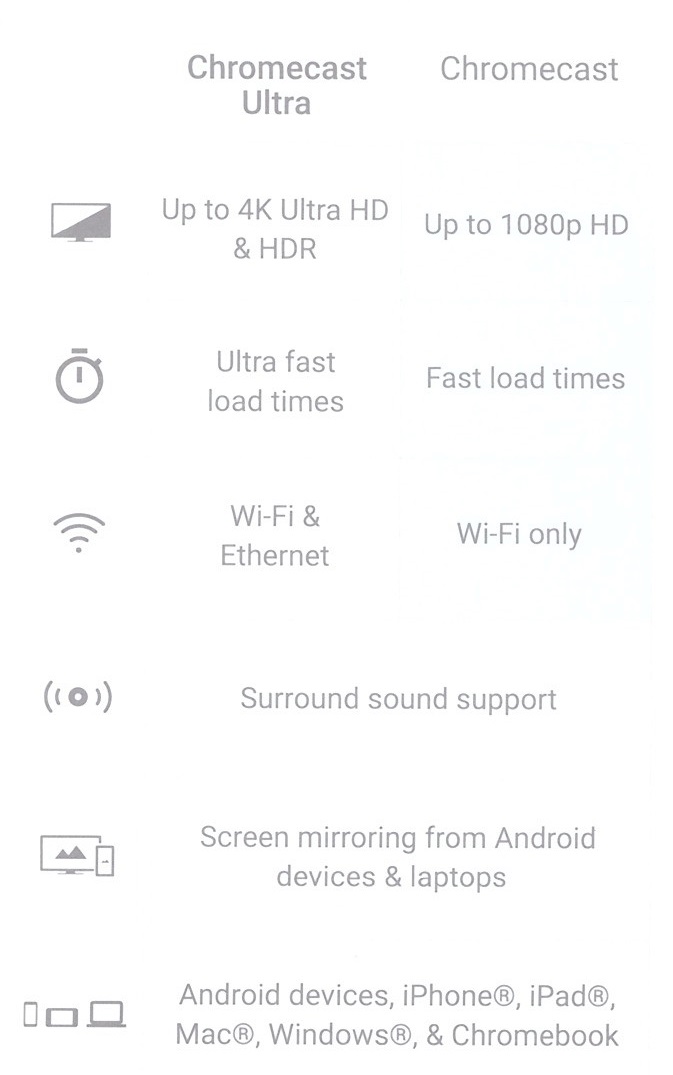 The obvious answer to that question is that it can stream 4k video from services such as Netflix, Google Play movies, YouTube and more.   Sorry, no Amazon Instant Video here.  The following is a list of features that you will get with the Chromecast Ultra
4K Ultra HD & HDR streaming capabilities
Faster load times than any other Chromecast
Ethernet connectivity (other devices are wifi only)
Do you really need to upgrade if you already have a Chromecast?
The answer to that question is totally up to you.  Do you have a 4K TV with no way to watch 4K content?  Then yes, you should buy the Ultra.  If you don't have a 4K television, then the only benefits that you will see are faster load times and the ability to connect the device to your network via Ethernet.  At $69, it's a tough decision when comparing to devices such as the Amazon FireTV and Apple TV.
Where can you buy the Chromecast Ultra 4K?




The Ultra is available at almost every retailer such as Walmart or Best Buy.  You can also buy the device directly from Google.